The equity in your home gives you the opportunity to make major purchases, save money on bills or taxes*, consolidate debts or handle major expenses. A home equity loan or line of credit offers competitive interest rates, payment terms to meet your needs, and online access to view account information and make payments. You've earned the equity in your home. Talk to us today about putting it to work for you!
Consider a home equity loan or line of credit for: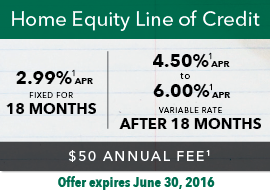 Making home improvements
Consolidating bills
Buying a new car, truck, SUV or boat
Vacation expenses
Medical expenses
Investing
Paying taxes
* Consult your tax advisor regarding the deductibility of interest and potential tax savings.
1Offer refers to a home equity line of credit secured by the equity in your single-family, owner occupied home. Offer applies to Colorado residents within the First National Bank lending area. Consumer accounts only. You must carry insurance on the property that secures your account. Approval and terms subject to credit qualifications. Some limitations will apply. You may be required to pay certain fees to third parties. These fees generally total between $11 and $1,500. After 18 months the APR is variable based on The Wall Street Journal prime rate ("WSP") plus a margin. The amount of the margin depends on type of checking account, credit qualifications and appraised or tax-assessed value. As of June 1, 2016, variable rates range from 4.50% APR to 6.00% APR. The rate will never exceed 18% APR. An annual fee of $50 applies but will be waived for our Premier Checking account holders. A minimum credit line of $10,000 is required. Promotional offers may not be combined with any other Checking Account relationship discounts.